Our value proposition: Quality & Innovation
With our research & development department we contribute to the development of high-quality in-vitro diagnostics and support our partners with products and qualified expertise.
Cross-platform test systems & controls
We develop in-vitro diagnostics (IVD) in form of test systems and controls with CE marking. Our work is platform-independent, comprising ELISA kits, rapid tests, and automated systems.
In addition to our own developments, we cooperate with partners from science and pharmaceutical & diagnostic industry in both fields, human and veterinary.
For us, the quality of a development is substantially defined by the quality of the used samples which is reflected in our competence in the field of providing human biospecimens.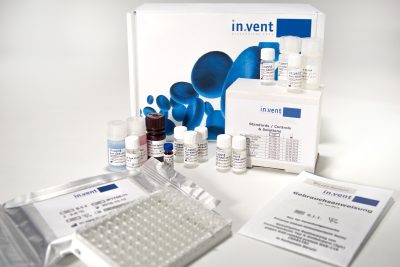 From Autoimmunity to Oncology
Our cooperation with DiagnostikNet BB enables us to handle the complete IVD product cycle from feasibility study to CE-marked.
Therefore, we could already realize numerous projects which are applied in routine diagnostics as well as in therapy decisions, e.g. autoimmune diseases, the determination of small molecules, and monitoring in the field of novel food / nutritionals.
EQAS & Kit External Controls
On the one hand, we support many European EQAS providers with controls in order to ensure inter-laboratory quality control, while on the other hand, we offer the development and production of kit-external and manufacturer-independent controls for the use in laboratory routine.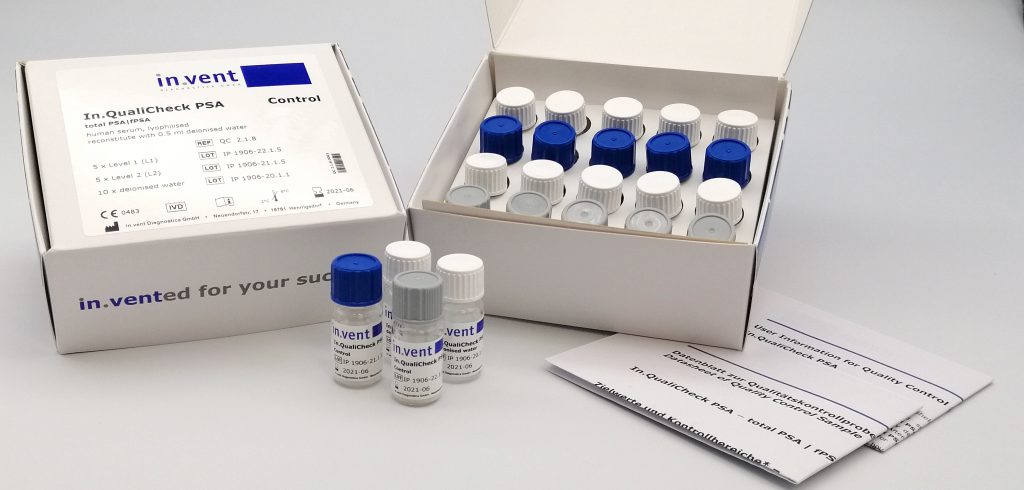 Immunoassays – From PoC to Automated Systems
In the field of test systems we are especially focused on immunoassays. These differ, for example, from chemical reaction methods such as the Jaffé reaction for the detection of creatinine or the measurement of the erythrocyte sedimentation rate.
A typical representative of immunoassays is the ELISA (Enzyme-linked Immunosorbent Assay) which usually consists of two antibodies that bind an antigen in the sample by forming a sandwich complex and enabling its quantification by an enzymatic colour reaction.
In contrast to this, there is also the possibility of a competitive test setup. Instead of antibodies also antigens can be used to detect antibodies in the sample. For this detection are used, among others, enzymatic-colorimetric labeling with luminescence, latex or gold particles.
In general practice of automated systems the manual steps of a typical ELISA are taken over by an automated pipetting system so that the analysis is performed automatically. These automated systems are mainly used in medical diagnostic routine laboratories to process a higher number of patient samples.
For diagnostic parameters, where the time between sample collection and result is crucial for the patient, rapid tests are used (Point of Care (PoC) tests), e.g. in form of lateral or vertical flow systems. Immunoassay rapid tests have a similar structure to ELISA but typically use colloidal gold for labeling to allow visual evaluation.
The complete Product Cycle of an IVD
The development of an IVD starts with the project idea and assessment including the requirements profile followed by the feasibility study. In this study it is examined whether the requirements can be generally fulfilled, for example, whether the measuring range can be achieved with the selected raw materials and test system. Subsequently, the now roughly defined basic conditions are fine-tuned in the actual product development and optimization phase.
In transfer-to-production, the manufacturing process is scaled up. Furthermore, the repeatability is verified so that the final product is ready for series production and the process is regulated, controlled, and auditable.
In the final performance evaluation test conformity with the initially defined requirements is assessed, e.g. in terms of precision, homogeneity, sensitivity, recovery, and clinical performance. These data included in the technical documentation, which is the basic requirement for approval to obtain the CE label and launch an IVD on the market. In order to evaluate the quality of the product, after market placement, post-market surveillance is following afterwards. The findings may result in adjustments of the product so that the product cycle starts all over again.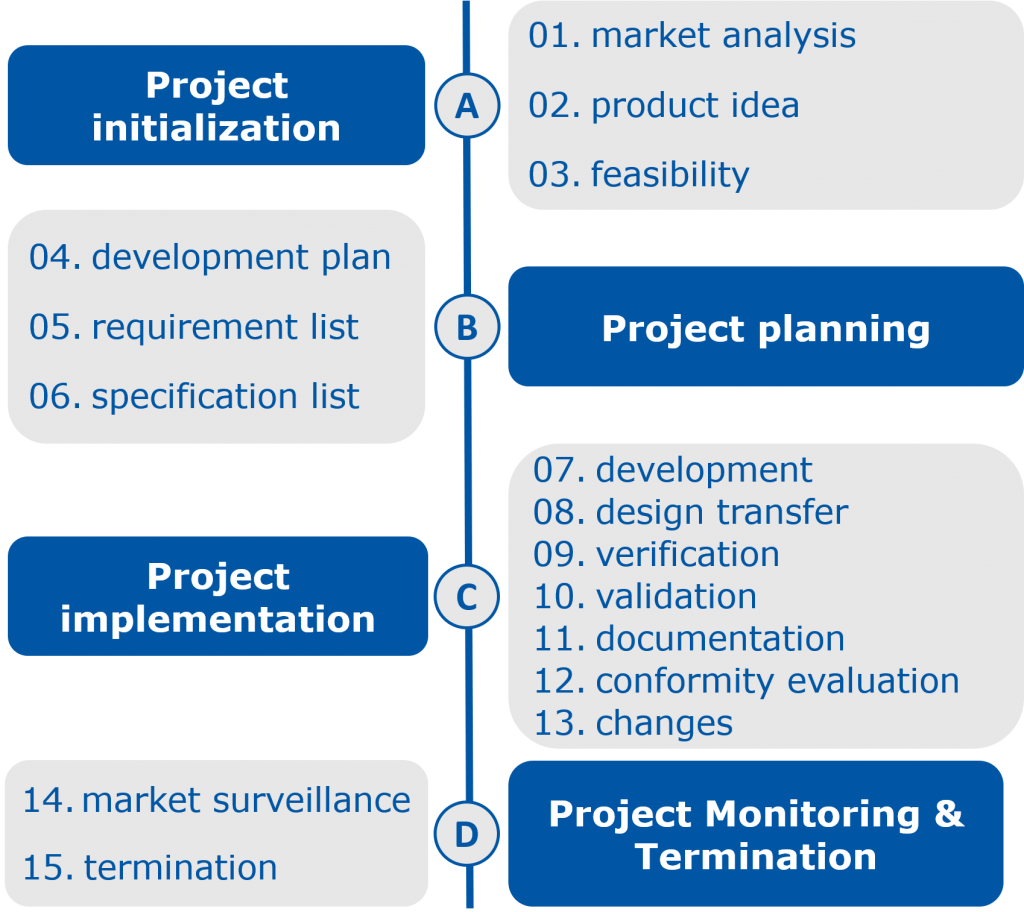 Human & Veterinary Diagnostics
The principle of a precise and early diagnosis, as the best prerequisite for a successful therapy, exists for a long time and has not lost its relevance in view of demographic change, the increasing number of chronic diseases, and cancer diagnoses.
Thyroid diseases like Hashimoto and Graves' disease are autoimmune diseases in which the body produces antibodies against the body's own proteins. These detected autoantibodies can be used for diagnosis.
Another autoimmune disease is rheumatoid arthritis. For the diagnosis well-known biomarkers are used such as rheumatoid factors and antibodies against cyclic citrullinated peptides. Since there is no cure for this chronic disease, scientists are still searching for new biomarkers that allow early diagnosis.
Many research approaches in the field of immuno-oncology are also concerned with the finding of new possibilities for diagnosis and prognosis as well as therapy monitoring of the disease.
In autoimmunity the focus is on the measurement of autoantibodies, whereas in other diseases small molecules are detected. In case of degenerative diseases, for example osteoarthritis, the degraded fragments can be used for diagnostics. In some cases, the most sensitive biomarkers are not obviously related to the disease, a well-known example is procalcitonin in sepsis.
Novel food, nutraceuticals, functional food, etc. are more and more important in the health sector in addition to classical diagnostics and therapy for known and new diseases. These foods include primarily health-promoting properties such as chia seeds, noni juice, and stevia.
We developed tests and controls for several of the listed topics above and we are in active cooperation with science and industry to contribute to high-quality diagnostic. For identification of new biomarkers we also work with engine the biomarker company. Combined with their technology over 100.000 potential antigens are analyzable in one step.
In the veterinary sector the same principles apply as in human diagnostics & medicine, and therefore we are expanding our product portfolio to biospecimens of animal origin and collaborate with partners from the DiagnostikNet BB on projects for biomarker-based osteoarthrosis diagnostics in dogs & horses as well as on the development of veterinary controls.